Live Broadcast for iPhone and iPad Users
Link for the live broadcast for iPhone and iPad users
If you have an iPhone, iPod Touch, or iPad, you can watch the St. Barbara Live Broadcasts right on your mobile device. Please click on the link below to access the live broadcast. NOTE: this link will only work on an Apple mobile device. For all other computers, please use one of the other links in the menu.
This live broadcasting service for mobile devices has been made possible by the Greek Orthodox Archdiocese Department of Internet Ministries. No Special Software is required! We would appreciate your comments at church@saintbarbara.org.
Services will only be viewable during actual service times.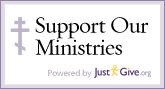 Schedule of Services
Sundays: Orthros (Matins): 8:45 AM | Divine Liturgy: 9:45 AM
Weekdays: Orthros (Matins): 9:00 AM | Divine Liturgy: 10:00 AM
For information on our Lenten and Holy Week services please contact the Church office at (203) 795-1347 between the hours of 9:00 AM - 5:00 PM, Monday through Friday.