Staff
Greek Language School Staff
The Teachers and Supervisors of the Greek Language School Program are fellow parishioners, who have an extensive knowledge of the Greek Language and are inspired to instill this knowledge to our students in an enthusiastic manner. They are people who love children and have a desire to serve our Lord through the stewardship of teaching. The following are the names of all our Greek Language School Staff:
Spiritual Advisor
Rev. Peter Orfanakos
Supervisor
Irene Milas
Theodora Maccone, Assistant
Kozani - Pre Kindergarten
Anita Maniatis
Zoi Maniatis
Stacey Kattis
Stavroupoli - Kindergarten
Maria Menegatos
Christina Zikos
Kavala - 1st Grade
Calliope Vlandis
Kalamata - 2nd Grade
Nomiki Kanakis
Patras - 3rd Grade
Fotini Loucopoulos
Tina Valaouris Berner
Thessaloniki - 4th Grade
Theodora Dogani
Larissa - 5th Grade
Eleni Hrambanis
Athens - 6th Grade
Sotiria Koniditsiotis
Crete - 7th Grade
Conversational Greek For Teenagers
Michael Albanis
Computer Lab
Mary Bitzarakis
James Chow
Special Event Coordinators
Maria Fifis
Kalliope Emmanouil
Substitutes
Angie Haskos
Evangelia Karames Kraus
Efthyhia Theodoropoulos
Adult Greek Language School
Nikos Loussides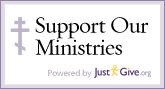 Schedule of Services
Sundays: Orthros (Matins): 8:45 AM | Divine Liturgy: 9:45 AM
Weekdays: Orthros (Matins): 9:00 AM | Divine Liturgy: 10:00 AM
For information on our Lenten and Holy Week services please contact the Church office at (203) 795-1347 between the hours of 9:00 AM - 5:00 PM, Monday through Friday.