Staff
The Teachers and Supervisors of the Sunday School Program are fellow parishioners who love children and show a desire to serve our Lord through the stewardship of teaching. They stand as role models for our children. The following are the names of all our Sunday School Staff:
Spiritual Advisor
Rev. Peter Orfanakos
Supervisors
Dr. Maria Diamantis
Clio Nicolakis, Assistant
Steven Yates, Curriculum
Nursery
Donna Antonellis
Christina Komninakos
Donna Kokenos
Kostoula Aldi
Kindergarten
Jeannie Daniel
Eleni Sarigianis
Rhoda Emmanouil
First Grade
Sophia Talnose
Kaliope Vlandis
Second Grade
Marcy Winklel
Vasilia Kaouris
Third Grade
Jamie Kaiser
Laurie Tomaszek
Fourth Grade
Stacey Ference
Anna Albanis
Tony Delos
Fifth Grade
Ann Meehan
Christina Zikos
Sixth Grade
Michele Papadimitriou
Seventh Grade
Pauline Crescenti
Penny Mitchell
Eighth Grade
Kalliope Emmanouil
Elpida Lolis
Ninth Grade
Anthony Alessio
Tenth Grade
Jim Sarigianis
Sunday School Choir
Vasilia Kaouris
High School Orthodox Study Group
Steven Yates
Oratorical Festival
Steven Yates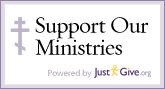 Schedule of Services
Sundays: Orthros (Matins): 8:45 AM | Divine Liturgy: 9:45 AM
Weekdays: Orthros (Matins): 9:00 AM | Divine Liturgy: 10:00 AM
For information on our Lenten and Holy Week services please contact the Church office at (203) 795-1347 between the hours of 9:00 AM - 5:00 PM, Monday through Friday.