Camp Saint Paul
Camp Saint Paul is the summer over-night youth camp of the Direct Archdiocesan District. All JOY children (grades 3-6) and GOYAns (grades 7-12) are welcome to participate. Camp Saint Paul is a Christ centered environment where our youth can grow in their Christian faith and make life long friendships. Located on Lake Bantam in the Berkshire Hills of Litchfield Connecticut, the children of our district pray together each day, sing around the campfire, and play on the athletic field. They discuss scripture, theology and major social issues in their daily sessions and express their creativity in arts and crafts. Campers also swim, canoe and waterslide on Lake Bantam, enjoying the blessing and silence of natural surroundings.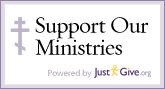 Schedule of Services
Sundays: Orthros (Matins): 8:45 AM | Divine Liturgy: 9:45 AM
Weekdays: Orthros (Matins): 9:00 AM | Divine Liturgy: 10:00 AM
For information on our Lenten and Holy Week services please contact the Church office at (203) 795-1347 between the hours of 9:00 AM - 5:00 PM, Monday through Friday.