PATCHES: Mother's and Infant's Ministry
"Parenting And Teaching Children Hope Empathy and Spirituality." This wonderful group provides an opportunity for parents to gather together with their pre-school age children and infants in a safe and friendly environment while enjoying the surroundings of shared Orthodox values in the context of the group.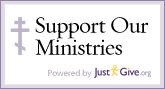 Schedule of Services
Sundays: Orthros (Matins): 8:45 AM | Divine Liturgy: 9:45 AM
Weekdays: Orthros (Matins): 9:00 AM | Divine Liturgy: 10:00 AM
For information on our Lenten and Holy Week services please contact the Church office at (203) 795-1347 between the hours of 9:00 AM - 5:00 PM, Monday through Friday.