Saint Barbara Fellowship: Adult Ministry
Saint Babara Fellowship is designed to meet the needs of parishioners over the age of thirty-five, this gathering of faithful, provides parishioners with an opportunity to deepen their spiritual lives, socialize, network, and be engaged in community activities.
This fellowship sponsors and participates in many different social events, seminars, retreats and community service activities.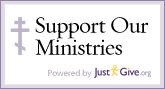 Schedule of Services
Sundays: Orthros (Matins): 8:45 AM | Divine Liturgy: 9:45 AM
Weekdays: Orthros (Matins): 9:00 AM | Divine Liturgy: 10:00 AM
For information on our Lenten and Holy Week services please contact the Church office at (203) 795-1347 between the hours of 9:00 AM - 5:00 PM, Monday through Friday.