YAL: Young Adult Ministry
The Young Adult League consists of adults, single or married, from the ages of twenty-two to thirty-five who gather to enjoy the fellowship of one another. YAL is part of a network of other YAL groups in the tri-state region and throughout America. Its focus is the core of what comprises the Christian life: Liturgia (our relationship with God through worship and Sacramental life); Martyria (living and witnessing of Christianity to others within the faith, to those who may have left the faith, and to those outside the faith); Diakonia (living in the image of God by loving and serving mankind); Koinonia (the way in which an Orthodox Christian brings their faith into their daily and social life).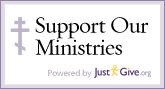 Schedule of Services
Sundays: Orthros (Matins): 8:45 AM | Divine Liturgy: 9:45 AM
Weekdays: Orthros (Matins): 9:00 AM | Divine Liturgy: 10:00 AM
For information on our Lenten and Holy Week services please contact the Church office at (203) 795-1347 between the hours of 9:00 AM - 5:00 PM, Monday through Friday.