St. Barbara Online Stewardship
It's easy to make your stewardship pledge online to support the many ministries and programs of our parish community.
You can make an online pledge for your stewardship commitment to our parish by filling out our online stewardship form here. All pledges and online transactions are encrypted.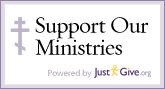 Schedule of Services
Sundays: Orthros (Matins): 8:45 AM | Divine Liturgy: 9:45 AM
Weekdays: Orthros (Matins): 9:00 AM | Divine Liturgy: 10:00 AM
For information on our Lenten and Holy Week services please contact the Church office at (203) 795-1347 between the hours of 9:00 AM - 5:00 PM, Monday through Friday.