Welcome to
St. Barbara Greek Orthodox Church
"Welcome one another, therefore, just as Christ has welcomed you, for the glory of God." - Romans 15:7
Through this web site, we are pleased to be able to introduce you to the same worship and fellowship as it is expressed in the life of our Church. If you are a steward of our parish, or are considering joining our community, these web pages will acquaint you with what our parish offers. We pray that you will enjoy learning more about the Orthodox Church and our parish and welcome you to join us in worship as we continue our Journey of Faith. We hope the information on this site will provide you with daily inspiration to follow the commandments of God as we all strive to seek salvation and live life in the Light of the Resurrection of Christ.
---
The Saint Barbara Greek Language School Teachers, Parents and Students host a pre-lenten Apokreatiko celebration on Saturday, February 29 from 6 - 11 pm in the Saint Barbara Grand Ballroom.
Enjoy a wonderful meal prepared by our master chefs and live Greek music by Athenian Entertainment.
Click here to view more information.
---
Join us for an informative, informal discussion with renown child psychiatrist and Saint Barbara parishioner Dr. Frank Ninivaggi.
The discussion will be divided into three sessions: 10:30 a.m. - 12:00 noon
Early Childhood (Birth - 5 years old) Saturday, February 8
School Age (6 years old - 12 years old) Saturday, February 22
Adolescence (13 years old - 18 years old) Saturday, March 7
Dr. Frank John Ninivaggi is an associate attending physician at Yale–New Haven Hospital, an assistant clinical professor of child psychiatry at Yale University School of Medicine's Child Study Center in New Haven, and the psychiatric director of the Devereux-Glenholme School in Washington, Connecticut. He is board certified in psychiatry and neurology and a well-known author of many books and articles available on amazon.com and psychologytoday.com
ALL ARE WELCOME AND ENCOURAGED TO ATTEND
---
Help the St. Barbara GOYA in fund raising efforts by bringing in your gently used articles of clothing, shoes, bedding, and pillows for donation.
Items will be collected from February 16 - March 29, 2020 in the Education Center or Amoratis Lounge Area. (Please do not drop off any items outside the building).
Your donation will help families in need as well as be a supportive fund raiser for our GOYAns to help offset the cost of GOYA ministry events.
---

The philosophy of the Saint Barbara Sunday School program is based on a Chirstocentric approach, which prepares the students with principles of the Orthodox Faith, encouraging them to grow in God's service. Our program seeks to build a solid foundation for the children of our community through exemplary lessons in the teaching and worship practices of the Greek Orthodox Faith.
Click on the image to the left to view the Sunday School Handbook. Click here to view the Registration Form.
---
The philosophy of the Saint Barbara Greek Language School Program is based on a desire to offer our parishioners, who have a longing to become versed in the Greek Language, a loving, caring and supportive environment that will nurture the desire to learn and excel in their study of the Greek Language.
Click on the image to the left to view the Greek Language School Handbook. Click here to view the Registration Form.
---
Join Our Parish List Servers
Get updated on all the news and information about our parish by subscribing to our parish's email listservers here.
---
Online Stewardship
You can now make your 2019 Stewardship pledge online. Simply click here to go to our online pledge form and make your monthly stewardship pledge with your credit card.
---

---
Parish Publications: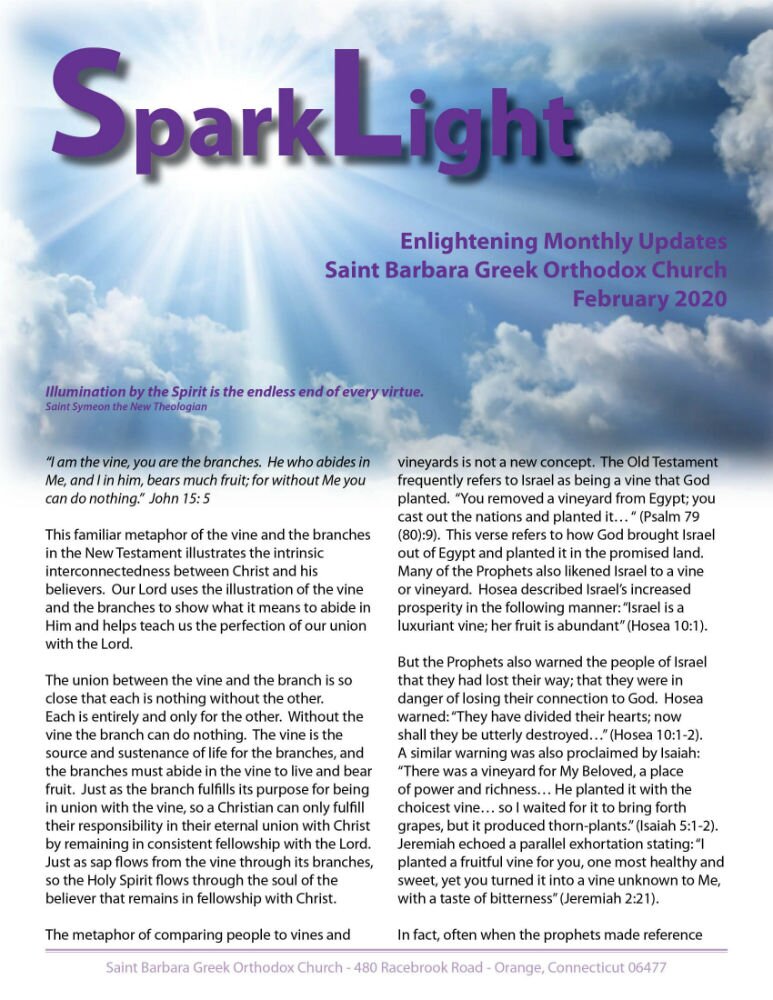 ---

---

---
Upcoming Events and Services
Ταράσιος Πατριάρχης Κωνσταντινουπόλεως
Feb 25
Tarasius, Patriarch of Constantinople
Feb 25
Πορφύριος, Ἐπίσκοπος Γάζης
Feb 26
Porphyrius, Bishop of Gaza
Feb 26
Προκόπιος Ὁμολογητής
Feb 27
Procopius the Confessor of Decapolis
Feb 27
See more on our Calendar Page »
---
Upcoming Events
Annual Gala
Annual Ad Book
JOY Events Flier
---
Registration Forms
Adult Greek School
GOYA Fall Retreat
---
Donate Car
Donate your Car, Boat, Truck, RV, Jet Ski or Snowmobile.
---
Shop Online
Visit our Online Store for a huge selection of icons, Bibles, books, music, and more.




View our weekly parish bulletin

Visit us on Facebook