Suzuki Music School
The Saint Barbara Parish has contracted with the Suzuki Music School of Orange to provide music classes to our parishioners. Classes will be held in our educational center on weekday afternoons and on Saturday mornings. There will also be Tuesday morning classes offered that are geared specifically to preschool children and young mothers. A full schedule of available classes and registration information are available in the Saint Barbara Educational Center. Current pledging stewards will be offered a reduced rate on music classes. We are excited to offer this music education opportunity to our Saint Barbara parish community.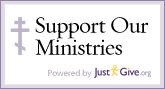 Schedule of Services
Sundays: Orthros (Matins): 8:45 AM | Divine Liturgy: 9:45 AM
Weekdays: Orthros (Matins): 9:00 AM | Divine Liturgy: 10:00 AM
For information on our Lenten and Holy Week services please contact the Church office at (203) 795-1347 between the hours of 9:00 AM - 5:00 PM, Monday through Friday.