A Taste of Greece
Greek Food Festival
Saint Barbara Greek Orthdox Church Presents
A Taste of Greece
Saturday, March 1, 2014
11 a.m.- 8 p.m.
Free Admission and Free Parking (On-site)
For 33 years Saint Barbara Greek Orthodox Church has delighted the senses at ODYSSEY, A GREEK FESTIVAL with a feast of Greek cuisine. Now you don't have to wait for Labor Day weekend! Due to popular demand, on Saturday, March 1, 2014, A TASTE OF GREECE will treat your taste buds to some of your favorites. Meet friends and family in Saint Barbara Social Hall to dine Greek style of take home some of your favorites!
A TASTE OF GREECE includes:
• Classic Greek cuisine – Avgolemeno Soup(egg lemon), Greek Salad, Spanakopita (spinach pie), Tiropita (cheese pie), Gyro, Pork Souvlaki, Lamb dinner, Pastitisio (Greek style lasagna), Greek style roasted Chicken
• Greek Pastries (glyka) – Baklava (layers of nuts and filo, drenched in syrup), Kourabiedes (shortbread dusted with powdered sugar), Ekmek Kataifi (shredded filo pastry with syrup, topped with custard and freshly whipped sweet cream and silvered, toasted almonds), Rice Pudding (creamy blend of rice, milk and sugar) and Ravani (moist almond and honey cake).
• Eat-In or Take-Out – Dine in our elegant social hall, and/or take food and pastries to go for another Greek meal.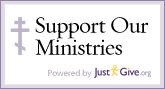 Schedule of Services
Sundays: Orthros (Matins): 8:45 AM | Divine Liturgy: 9:45 AM
Weekdays: Orthros (Matins): 9:00 AM | Divine Liturgy: 10:00 AM
For information on our Lenten and Holy Week services please contact the Church office at (203) 795-1347 between the hours of 9:00 AM - 5:00 PM, Monday through Friday.