Memory Eternal:

John-Peter Iakovos Orfanakos
By the Grace of God, John-Peter Iakovos Orfanakos was received into God's Heavenly Kingdom in the early morning hours of, January 24, 2015.
Our hearts are filled with thanksgiving to God for the blessing of John-Peter's twenty-year earthly life. We continue to pray for his soul and God's mercy on us all.
With love in Christ,
Fr. Peter and Presbytera Vangie Orfanakos
Memorial Donations
In lieu of flowers, donations may be made to: the St. Barbara Building Fund
St. Barbara Greek Orthodox Church
Attn: St. Barbara Building Fund
480 Racebrook Road
Orange, CT 06477
---
New Ministry: Mustard Seed Faith Group For Adults
Exploring the Celebration of Great and Holy Week in the Orthodox Church
Wednesday, April 1, 2015 - 7:00 p.m. in the Saint Barbara Community Center
Join us for the next gathering of the Mustard Seed Faith Group for Adults on Wednesday, April 1st. Father Peter will lead a thoughtful and interactive discussion on the celebration of Great and Holy Week in the Greek Orthodox Church. Explore the Biblical texts and hymns read and chanted throughout Holy Week and gain a better understanding of the services celebrating the Passion and Resurrection of Christ.
The Mustard Seed Faith Group for Adults is open to all adults - Orthodox and non-Orthodox alike and is a ministry of Saint Barbara Greek Orthodox Church in Orange, Connecticut.
Saint Barbara Summer Camp 2014
Follow You... Follow Me... Follow God
"But seek first the kingdom of God and His righteousness, and all these things shall be added unto you." Matthew 6.33
View this year's Summer Camp Slide Show. Don't miss this amazing recap of fabulous moments from Summer Camp!
---
Join our Parish's email listservers
Get updated on all the news and information about our parish by subscribing to our parish's email listservers here.
---
Welcome to
St. Barbara Greek Orthodox Church


"Welcome one another, therefore, just as Christ has welcomed you, for the glory of God." - Romans 15:7
Through this web site, we are pleased to be able to introduce you to the same worship and fellowship as it is expressed in the life of our Church. If you are a steward of our parish, or are considering joining our community, these web pages will acquaint you with what our parish offers. We pray that you will enjoy learning more about the Orthodox Church and our parish and welcome you to join us in worship as we continue our Journey of Faith. We hope the information on this site will provide you with daily inspiration to follow the commandments of God as we all strive to seek salvation and live life in the Light of the Resurrection of Christ.
---
Online Stewardship
You can now make your 2013 Stewardship pledge online. Simply click here to go to our online pledge form and make your monthly stewardship pledge with your credit card.
---
2015 Stewardship: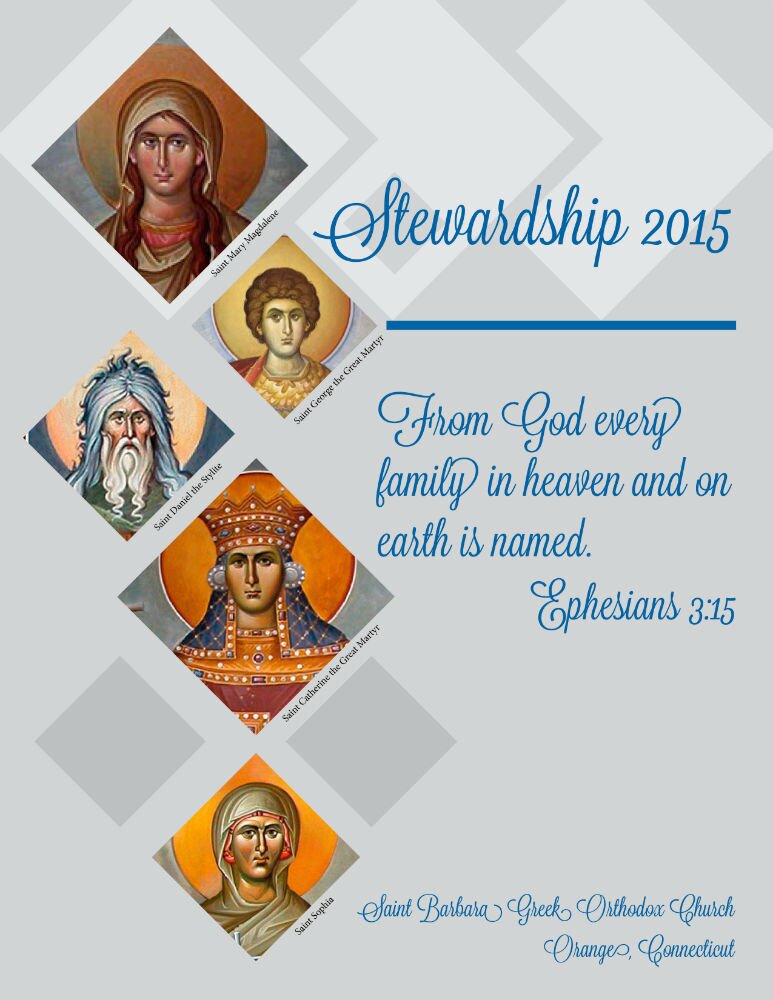 ---
Parish Resource Guide:

Ministry Resource Guide 2014-2015: Part 1
Ministry Resource Guide 2014-2015: Part 2
Ministry Resource Guide 2014-2015: Part 3
---
Parish Publication: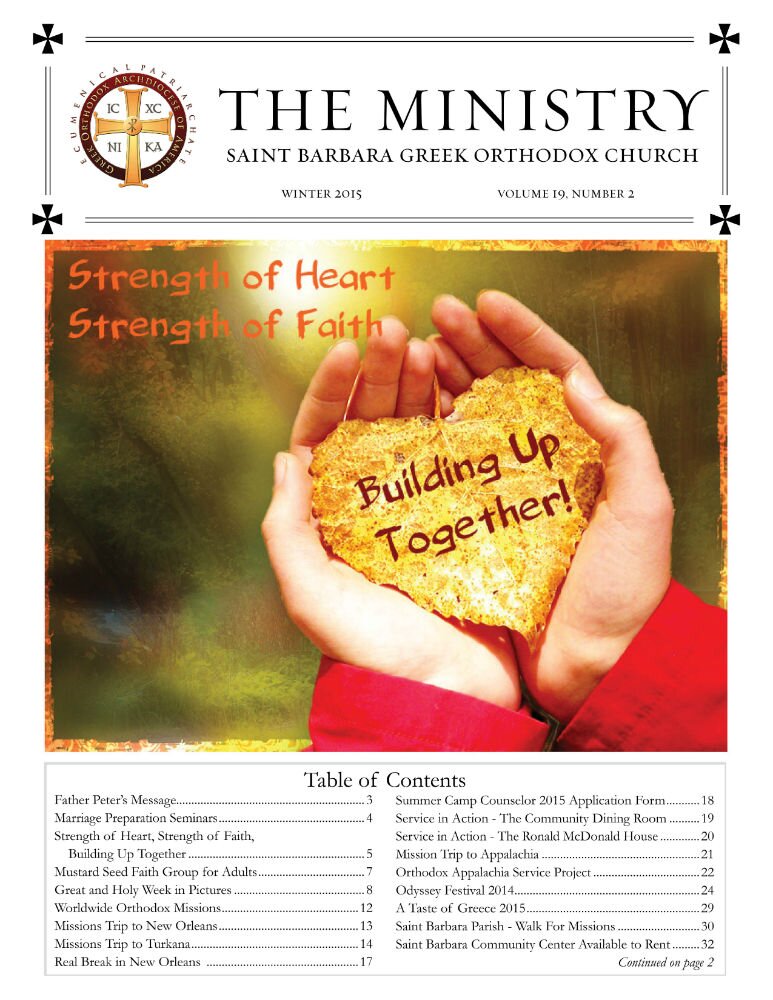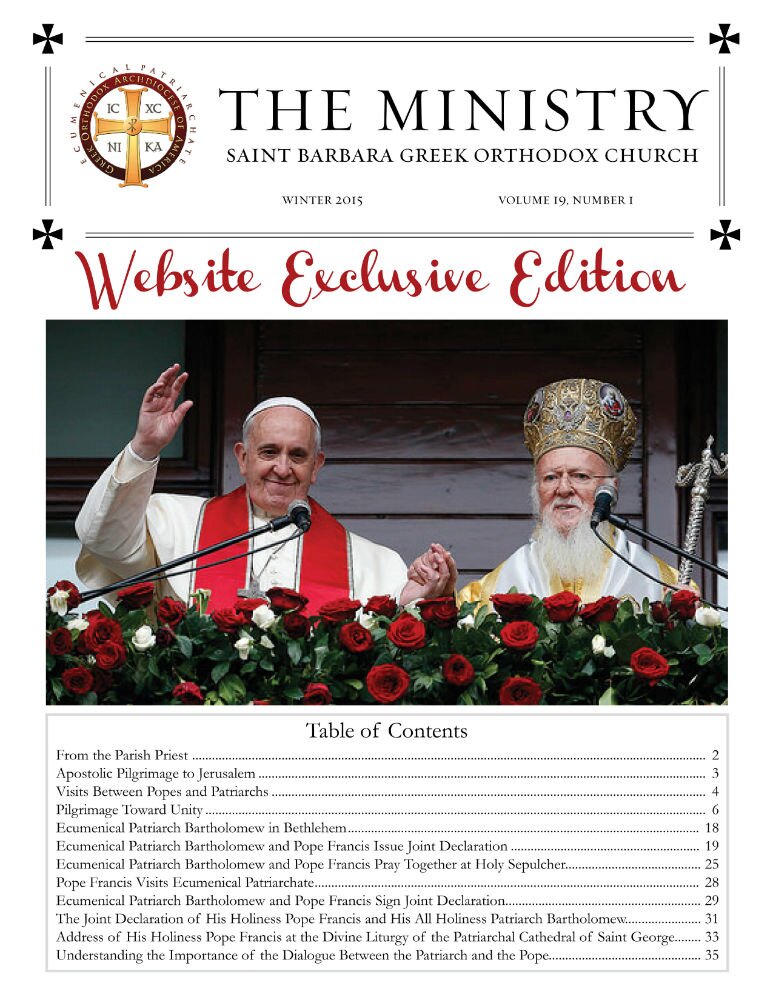 ---
Upcoming Events and Services
Pre-Sanctified Liturgy - Προϊαγιασμένη Λειτουργία
Holy Trinity Chapel
Mar 4 9 am
AHEPA Meeting
Lightle Community Center at Saint Barbara Church
Mar 4 7:30 pm
Greek School
Mar 5 4:30 pm
Adult Greek Language
Mar 5 7 pm
Salutations - Χαιρετισμοί
Mar 6 7 pm
Κυριακή Β' των Νηστειών
Mar 8
See more on our Calendar Page »
---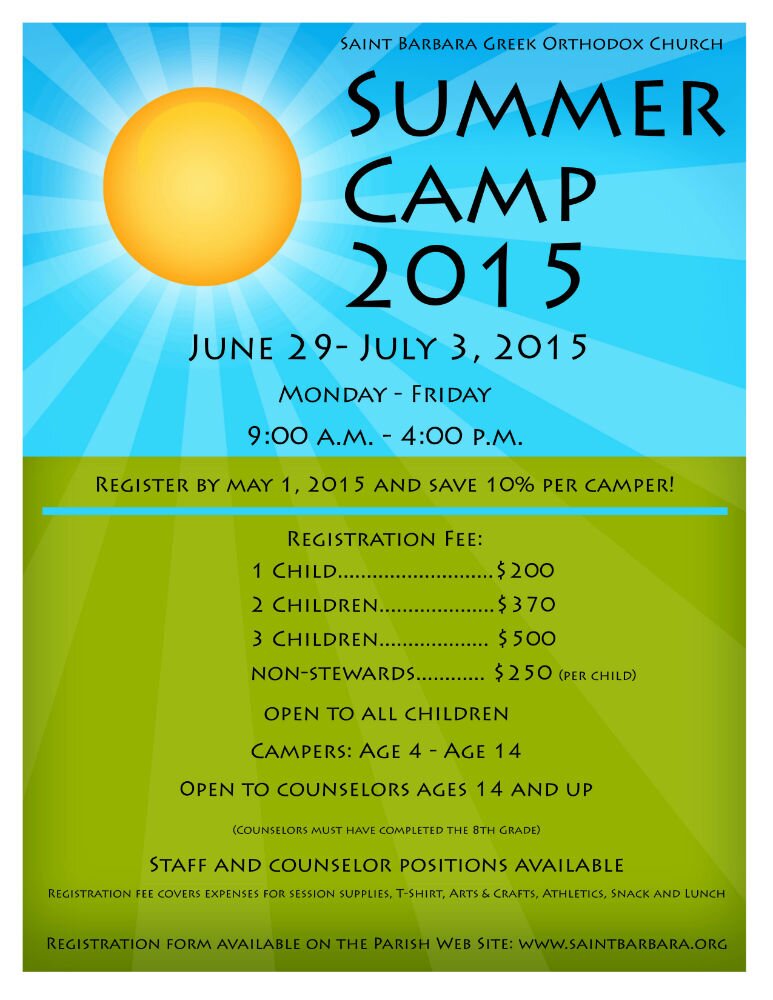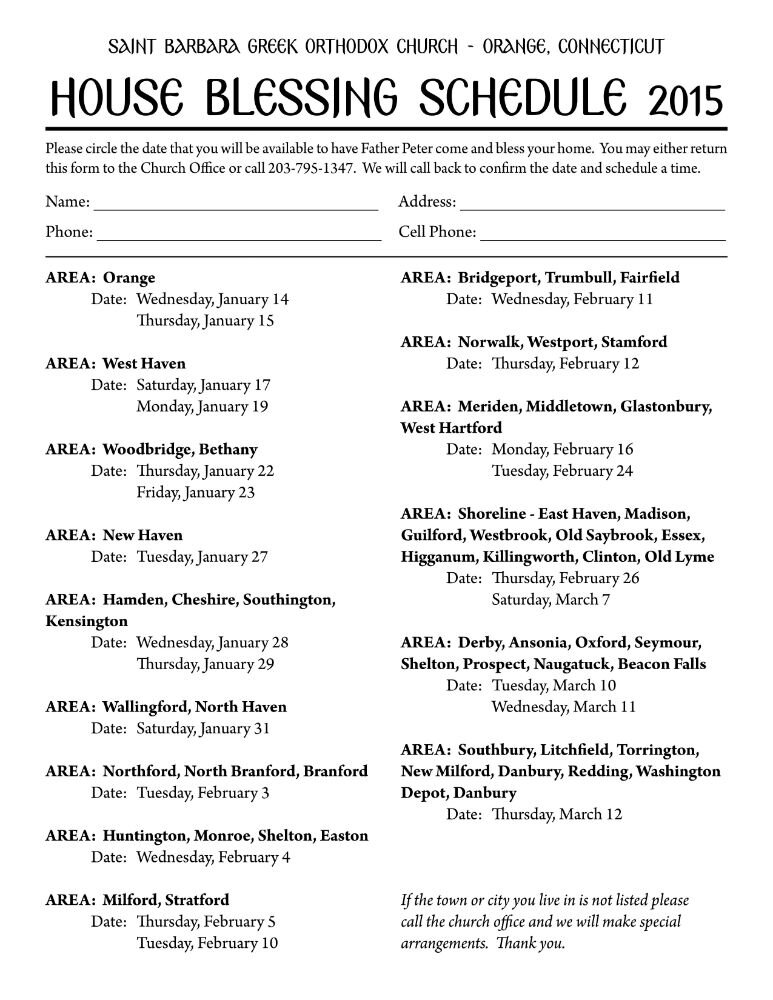 Registration Forms
GOYA Fall Retreat
---
Shop Online
Visit our Online Store for a huge selection of icons, Bibles, books, music, and more.




View our weekly parish bulletin

Visit us on Facebook