Live Services
Live broadcasts are only available during actual services. Our live broadcasts reach thousands of individuals and households. Please consider making a donation to our parish to help us defray the costs of these live broadcasts. Between our high speed Internet connection and streaming media bandwidth usage it costs St. Barbara $2,000/year to provide this service. Costs to maintain and upgrade our computer equipment and cameras are additional costs.
To view a live broadcast click on one of the following links:
High Bandwidth | Low Bandwidth | iPhone and iPad users
Past Services Available for Viewing:
All services can be viewed live. Please see the Worship Services Schedule for dates and times.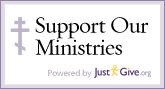 Schedule of Services
Sundays: Orthros (Matins): 8:45 AM | Divine Liturgy: 9:45 AM
Weekdays: Orthros (Matins): 9:00 AM | Divine Liturgy: 10:00 AM
For information on our Lenten and Holy Week services please contact the Church office at (203) 795-1347 between the hours of 9:00 AM - 5:00 PM, Monday through Friday.